A Pillow is a Pillow
Sealy 300 Thread Count Density Pillow

Believe me, a pillow can be much more than a pillow!
With COPD and breathing issues, I've been forced to sleep sitting up, tossing and turning on a lounger or snoozing in a recliner for a full eight hours.
Sleep is important, and a good pillow that suits your needs helps insure a good night's sleep.
For most of us, the lack of a good night's sleep means the next day will be restless, achy and tiring.
And that good night's sleep often depends on more than a soft and cushy mattress.
How well you rest at night can also depend on the thickness and content of your bed pillow.
Since I wanted to show a variety of Pillows today, I went straight to a chiropractor to learn how to choose the very best pillow.
——————————————
And guess what, his suggestion is something we already know. The best pillow for you is the one that gives you the best night's sleep. We're all different and we all have different pleasures and needs. The pillow that is best for me may not be best for you.
Only YOU know which pillow suits you best and gives you a sound and comfortable sleep
"Using the right pillow in the right place during sleep can lead to a sound slumber without the residual neck and back pain upon waking," says Dr. Daniel Zagst a chiropractic physician at Advanced Health & Chiropractic in Mooresville, NC.
The pillows above are right for me because they are firm and keep my upper body and head on a slight incline. With COPD, I don't sleep well if I'm totally flat while sleeping. I need an incline but not a super soft incline.
How do you sleep best. Do you like lots of fluffy, soft beneath your head or a flat surface with no pillow at all. Only you know what gives the best sleep. And, as Dr. Daniel Zagst says, choose the pillow that is best for you. His own personal favorite is a polyester pillow for his head and foam pillow for his knees.
For me, I must have the foam pillow for my head (since it has less give and will keep my head inclined throughought the night for easy breathing) and no pillow at all beneath my knees.
Below are a few Pillows that will suit every sleeper whether you prefer Polyester fiberfill or the firmness of Memory foam.
Sealy 300 Thread Count Density Pillow

Simmons Beautyrest Firm

Classic Memory Foam

Eddie Bauer Goose Blend Euro Piillows

Jessica McClintock Goose Blend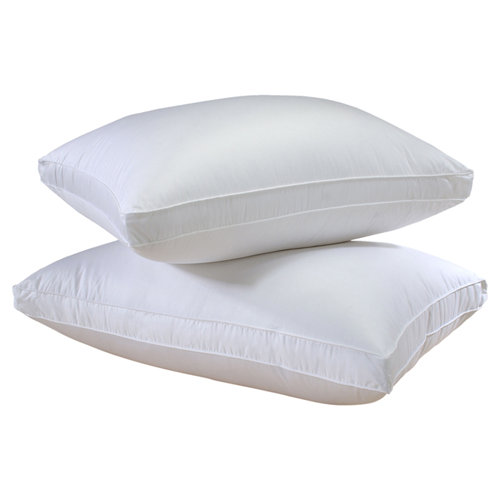 Himalayan Goose Down

——————————————————————-